Some Beach…
Some people dream of lying on a resort beach soaking up the sun with drink in hand, and some people dream of setting out on an ocean kayak adventure in hopes of catching a glimpse of an endangered species on a National Wildlife Refuge…. With St. Croix's Green Cay, everyone can be happy! Green Cay is a 14-acre island just north
of St. Croix where an endangered lizard calls home. The Saint Croix ground lizard has been extirpated from the main island due to the introduction of the mongoose in the 1880s. Since then, it has found refuge on a few smaller nearby islands including Green Cay. When the waters are calm, some very strong swimmers swim to Green Cay. But, we would highly recommend stopping by the Tamarind Reef Resort beach shack and renting sea kayaks from Mimi.
Our plan was to kayak out to Green Cay with our family of eight. Dad even talked of circumnavigation! That would have involved 3 kayaks, each manned by Mom, Dad, and Nana, with the five kids (age 4-10) accompanying the adults. After Mimi set everyone up with lifejackets, we set out in search of the elusive, endangered Saint Croix ground lizard. However, when we were there the "Christmas
winds" were blowing daily and the water was quite rough for the Caribbean. We quickly realized that our crew was not going to be strong enough paddlers to successfully reach Green Cay, and we opted for a leisurely (and much safer) paddle through the mangroves. The kids had a blast counting iguanas and paddling under a yellow-crowned night heron family nesting overhead.
Take 2
Thanks to Nana's babysitting service the next day, we were able to make the voyage to Green Cay as a duo. What a romantic date! After a 20 minute paddle we hopped out to do some snorkeling. The current was strong making swimming there quite the workout and we saw lots of sea urchins, so watch your step! When we strapped on the
fins and snorkels, the true treasures of the island were revealed below the surface. We saw many sea fans, schools of blue tang, parrotfish, damselfish, four spot butterfly fish, French angelfish and many more. The small beach is full of beautiful queen conch and other shells. The real highlight of the trip was seeing a spotted moray eel! He (or she) was spectacular and even was willing to pose for a few pics!
Dr. Aaron's Tips for an Eco-Friendly Visit
If you visit Green Cay, be sure to do so with a very light footprint and with knowledge of how easy it is to impact this sensitive area.
Don't visit in a boat that could have any chance of carrying rodents or a rogue mongoose to the island. A sea kayak is the perfect vessel!

If you land your kayak, do so only in the tidal shore area where you won't be treading on the sensitive plants that live in the highlands.

Don't touch the corals and use reef-safe sunblock for their protection as you are snorkeling around the island.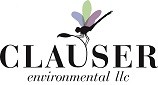 Krista S. Clauser and Aaron S. Clauser, PhD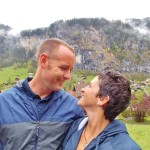 own and consult for Clauser Environmental, LLC in Eastern Pennsylvania. When Aaron and Krista aren't working as environmental scientists at home, they travel the world with their five children to share environmental and cultural knowledge. If you enjoyed this post, follow our blog at www.clauserenvironmental.com or www.facebook.com/ClauserEnvironmental.